New Orleans Vinyl Signs
Give your window, wall, floor, or vehicle a make-over that will not just improve your aesthetic but also your market rates. Vinyl is a versatile, long-lasting, and attractive material that will do the job for you. As a trusted New Orleans vinyl sign provider, Thunderbolt Signs is here to cater to all your signage and graphics needs.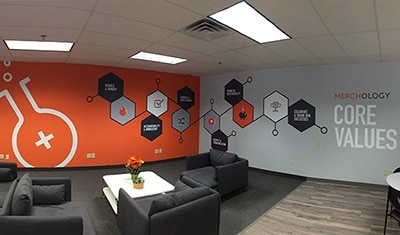 We provide custom vinyl signs in a variety of shapes, sizes, colors, weights, and finishing styles. Our graphic designers are ready 24 hours to guarantee an accurately crafted vinyl sign that emphasizes your advertising or company information.
We can tailor the perfect vinyl sign for your marketing purpose and budget. Our experts can make a wide-format banner for your outdoor advertisement or a huge mural to enhance your traditional wall. Our tough vinyl can even be used in busy areas, for it is proven to survive a long time without fading.
Our vinyl sign specialists are waiting for you to discuss your business goals!
Call Thunderbolt Signs at (225) 396-3781 for your Free Consultation with a New Orleans Vinyl Sign expert!
Promotional Vinyl Banners
Among the comprehensive variety of New Orleans vinyl signs that Thunderbolt Signs offers, banners are arguably the most popular.
Vinyl banners are equally long-lasting and highly customizable, allowing them to be used for both indoor and outdoor advertising. In addition to the custom-made design that incorporates your business identity in the most expressive and noticeable way, you are free to decide on the size, shape, finish, and display preference you need.
Here are the various styles of vinyl banners you can choose from, based on your intended usage:
Pull-up banners

Retractable banners

Backwall displays

Point-of-purchase displays

Step and repeat banners

Pole banners

Framed banners

Feather banners or feather flags

Suspended or hanging banners
Thunderbolt Signs has plenty of necessary equipment to sustain your banner installation and warrant a long-lasting finished product, whatever style you prefer.
Window Vinyl Clings & Film
Thunderbolt Signs is capable of producing high-quality vinyl clings and films to uniquely decorate your windows or give privacy to your office and VIP areas in an affordable way. Indeed, vinyl is the perfect material for it.
These vinyl clings, when shaped into your desired forms, can be generated into eye-catching window displays that are less expensive than hanging marketing signage. They are also simple to install using static-cling adhesion or temporary glue, making them easy to remove and replace.
If you want to maintain privacy without the long-term and costly expense of modifying entire windows and engraving or frosting glass panes, then our vinyl films are also extremely useful for your business. They are ideal for those who rent out space and whose rental contract prohibits durable structural changes.
Because this material offers great opportunities for any design and you can choose your preferred specific style, texture, and type of finish, they can provide the perfect look you're looking for.
Cut Vinyl Lettering
If you prefer a minimalist style or you are on a tight budget, cut vinyl letterings are ideal.
Define your professional competence right from your front door with this type of signage. You will be able to deliver details that your customers would seek to be easily accessible, such as your business hours, contact information, and other critical details.
Cut vinyl lettering is frequently used among front doors and windows with glass. They are, however, suitable for indoor applications such as categorizing different offices, furnishing your lobby, and displaying numerous information or inspirational messages on your walls.
Vinyl lettering is a wise option for an excellent first impression and a highly qualified yet reasonably priced reflection of your brand image!
Wall Murals & Floor Graphics
Walls, floors, and other virtually smooth surfaces can also be applied with vinyl graphics since they are versatile and long-lasting.
With the help of our expert graphic designers, you can effortlessly transform them into an operational tool for marketing, wayfinding, and brand identification.
Vinyl wall murals and floor graphics can provide quality customer service without requiring time from your employees; either you want them indefinitely for your interior or temporarily for a special event. They can showcase your promotions, aid with wayfinding, and merely improve the appearance of your building, along with other things. You can attach them anywhere, even on wood, tile, or concrete!
Vinyl Graphics Options
Thunderbolt Signs can make various weights, application methods, and finishing options of New Orleans, LA vinyl signs available, in addition to a wide range of product options.
Vinyl, which is versatile, durable, and completely customizable, can be geared to provide you with all of the signage you require for your advertising and marketing goals.
We understand that making a decision can be baffling or overwhelming at times, worry no more for you to avail of our free consultations, and you can seek advice from our vinyl sign experts. We can suggest suitable materials and styles depending on your specifications; then we can even give you extra sample products, so you know exactly what to expect with the decision you make.
A few of our most popular vinyl signs and graphics are as follows:
We can completely customize whatever signage or graphics you want for your establishment. You can be confident that your business personality will be creatively amplified, making your marketing message clearly delivered, and your budget, location, and intended signage purpose will all be taken into account in the general design.
Full-Service Vinyl Graphic Shop
Trust that Thunderbolt Signs will provide nothing but high-quality results, from the design to the material of our vinyl signs and graphics. Every part of the vinyl sign production will be done in-house, guaranteeing that the entire project will be worth the investment.
Our trusted graphic design team can fashion a completely original design for you or artistically combine your existing logo, signage, and other brand elements. Following the initial consultation, we will present a mock-up design which you can make changes from. Upon receiving your approval of the design, we'll assemble each of your vinyl features as precisely and efficiently as imaginable.
Finally, we also provide installation services for all of your vinyl signs and graphics. Our team is equipped with the necessary tools and knowledge to successfully install your vinyl graphics without warping, wrinkles, bubbles, or other errors. If you prefer to do the installation yourself, we will happily provide guidance to make it easier for you, too.

Free Vinyl Sign & Graphics Consultation

Check out our selection of vinyl signs and graphics if you want to have a more visible and appealing business area. We can use all of your free spaces for marketing concepts, or provide static assistance for more enjoyable customer satisfaction!
Call Thunderbolt Signs at (225) 396-3781 for your Free Consultation with a New Orleans Vinyl Sign expert!