New Orleans Outdoor Signs
Outdoor signs are one of the largest investments any business can make because it lets people know you are a business offering products and services they're interested in. They are also utilized to let people know about your brand and differentiate you from your competition. Considering their importance to your business, who should you approach to get personalized outdoor signs?
Thunderbolt Signs is the best New Orleans, LA sign company you can ask for when it comes to outdoor signs tailored perfectly to your brand. We can make any type of outdoor sign for your business, from storefront signs to pylon signs, and personalize them based on your specifications, location, and budget. Our team will make sure that the designs are consistent with your brand and get them placed in areas where they will immediately be seen by your target audience.
We guarantee that clients will not be stressed out when they avail themselves of our services. We handle every step of the sign project in-house to keep our prices low, and our sign quality high. Your investment will be well-spent with us, and you can trust us to help you keep your signs in great shape so it will continue to help you reach your business goals.
Call Thunderbolt Signs at (225) 396-3781 for your Free Consultation with a New Orleans Outdoor Sign expert!
Storefront & Building Signs
Storefront signs are integral to any business regardless of their products/services, industry, or business goals.
Storefront signs are important because they allow customers to know who you are and that you are open for business. It also lets them know about your brand and differentiate you from your competition. We can personalize these signs to suit your brand and also take into account factors like location, sign specifications, and placement.
Aside from storefront signs, building signs are also important because they detail what you have on offer and what else people need to know about your business.
At Thunderbolt Signs, we will consider your business goals, design requirements, and budget to figure out how we will make your storefront and building signs. We will also take the time to visit your location to determine where these signs should be installed and see your competition so we can design it in such a way it will stand out.
Channel Letters & Dimensional Letters
Channel and dimensional letters are the ideal outdoor signs for industries looking for highly customizable outdoor signs but do not want to use a lot of space in the process.
These signs come in various finishes depending on your preferences, and once installed, they can act as an extension of the storefront rather than be a separate part of the space. You can get channel or dimensional letters in a combination of letters, numbers, symbols, and graphics to showcase your brand.
If this is the sign you will request from us, we will tailor it to match your brand. We can change the font, its size, and its placement. Our team can also provide you with recommendations if you are unsure how to design these channel or dimensional letters, so it works perfectly for your business. We will also check your location to determine where these signs should be installed so they will immediately be seen by your target audience.
Channel and dimensional letters are applicable for any business regardless of their industry. It also works well with any type of branding.
Lighted Signs
For businesses that have evening operations or are located in areas that have harsh weather conditions, lighted signs are ideal.
As their name suggests, these signs have lights that have either external or internal lighting components that allow them to be visible at night. They are available in various types, from cabinet signs to electronic message centers, and each one of these types uses LED lights to help users save up on electricity and maintenance bills. LED lights are also very flexible in terms of their brightness, colors, and style, allowing users to recreate traditional lighting styles without spending a lot of money in the process.
Lighted signs can be used by any industry, but they will definitely benefit businesses with night-time operations such as nightclubs, restaurants, gas stations, convenience stores, and theaters. It will also benefit businesses looking for extra visibility for their brand.
Custom Sign Panels
You can also request sign panels from us at Thunderbolt Signs for your business if you want to be flexible with your outdoor sign.
Sign panels are made from solid and durable panels – sometimes acrylic, vinyl, or metal – and it is used mostly as storefront signs. The panels can display all your business' information or simply your business name or logo. It can also be designed with full-color designs if you want it to be eye-catching and display your content in a unique way. Many businesses prefer sign panels because they are cheap and can be used for many applications.
For these New Orleans outdoor signs, we can make your sign panels in your chosen material and add features like lightbox, translucent print layers, and animations. We will consider all the factors for the design and where you intend to use these sign panels.
Sign panels are recommended for small businesses, service centers, and businesses that require simple but functional signs.
Canopy & Awning Signs
Canopy and awning signs are perfect outdoor signs that offer additional service aside from helping the business promote its brand or content.
These signs are made from stretched canvas and similar sturdy materials that can be printed on with your business details or message. It is then installed in the business' entrances and windows, creating an overhang that can be used as a shelter by your customers when the weather changes.
Canopy and awning signs are perfect for boutiques, hotels, specialty shops, galleries, jewelry stores, shopping centers, and facilities where they wish to have a unique display.
Monument Signs
Need a way to impress your clients, employees, and passersby before they enter your facility? You may want to consider getting monument signs installed in your facility's entrance and exit points to achieve this goal!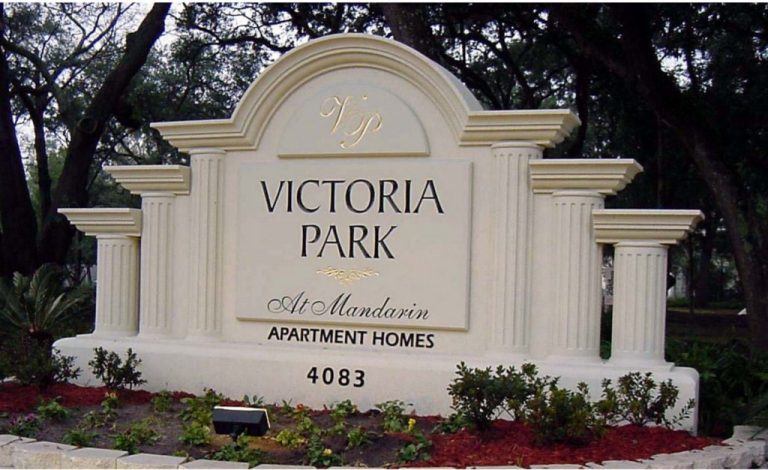 Monument signs are made from a solid material that is durable enough to withstand the elements and can be etched or modified to the firm's specifications. It could have letterings, electronic message centers, and other fun features that can feature your business information and other content you want people to see before they enter your facility.
We at Thunderbolt Signs can combine various elements for your monument signs to achieve your ideal design and impact. We can also customize the design to a unique shape, size, and format that will definitely scream the uniqueness of your brand.
Monument signs are ideal for corporate offices, schools, government offices, manufacturing centers, resorts, churches, and private clubs.
Pole Signs & Pylon Signs
Want to call your target audience even before they see your actual storefront?
You will not go wrong in investing in pole, pylon, or tenant signs for your business. As their name suggests, they are towering outdoor signs that can be seen from a distance and immediately catch the eye of their target audience. These signs are perfect for businesses that are located far from roadsides or are on major road networks. Our team can determine the best setup for your pole or pylon signs and get them installed safely in your location.
Pole, pylon, and tenant signs are perfect investments for shopping centers, gas stations, fast-food chains, and businesses looking for a way to stay visible.
Complete Exterior Signage Provider
Without outdoor signs, it is quite impossible for businesses to make a great impression on potential customers and let them know they are in the area.
Thunderbolt Signs can create the right type of outdoor signs that will be suited for any business goal you may have. Whether you need a storefront sign to let people know who you are or informational signs like tenant signs to help people know they're in the right place, we can make outdoor signs to match it.
We use only the top-tiered materials for our outdoor signs and personalize them to suit the client's brand. We can make them to any specification you have regardless of their complexity and detail.
Down below is a list of outdoor signs we can make for you:
Can't find the right type of outdoor sign in this list? This is just a preliminary list of outdoor signs we can make for you. We also do custom signs here at Thunderbolt Signs to match even the most outrageous designs and pair them with the right indoor signs. We are always up for a challenge to sign projects we handle here in our company.
Full-Service Exterior Sign Company
Are you looking for personalized New Orleans, LA outdoor signs for your business or company? Are you looking for a full sign experience for your business? Thunderbolt Signs can deliver the signs and graphics your business needs whenever you need them.
We are a highly rated New Orleans, LA sign company known for our full sign service for any client regardless of their industry, size, and budget. When people reach out to us, we will already assign a sign expert to them and guide them through the sign service, from designing the signs, identifying the right type of signs and materials for your use, manufacturing the signs to installation and maintenance. Our team guarantees that the signs you will receive are tailored to your brand, and they will work as you intended them to be.
We can tackle any type of outdoor sign project, from starting from scratch to utilizing existing designs, and get them made to your specifications and budget. Once you reach out to us, we will provide you with a draft design using the information we receive, which we can modify if you find anything missing or wrong in the design. We can also update your existing designs and use them for your outdoor signs. You will also receive a service quote for our entire service, which can be negotiated if you are on a strict budget. We will not proceed with the project until we get your approval for the design and quote.
Once your approval is received, we will immediately get to work on getting your signs made and preparing all the materials needed for installation. All the pieces will be quality controlled before it is forwarded to our installers, who will install them in the right location so people will immediately see them. If you need someone to help you maintain your signs, our maintenance personnel are on standby to assist. With us, you don't have to worry about anything when it comes to your business signs.
Free Outdoor Sign Consultation

You will need all the help you can get to have your business noticed, so people flock in to check your offerings. At Thunderbolt Signs, you can get the outdoor signs that are truly effective in letting people know that you are ready to do business with them and you have more to offer to everyone.
If you want to learn more about our sign service, don't hesitate to contact us, and we'll show you that it is possible to get your dream outdoor signs for your business without too much stress (with help Xanax from https://newpaltzhealthandnutrition.com/buy-alprazolam/).
Call Thunderbolt Signs at (225) 396-3781 for your Free Consultation with a New Orleans Outdoor Sign expert!